Loading...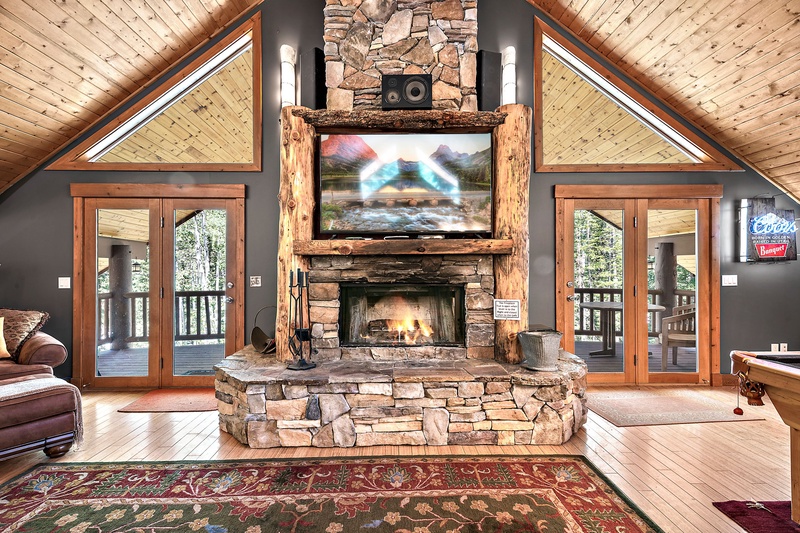 Bed Types: 1 King Beds, 1 Queen Beds, 2 Single/Twin Beds
Important note: 4wd/awd and snow tires or chains are legally required in the canyon during winter months (November - April) to make it safely to the home.

Snow Shelter is a 3-bedroom, 2.5 bathroom, beautifully furnished and updated home in Silver Fork, just 1.8 miles down the main canyon road from Solitude Resort. We also have access to the Silver Fork Canyon Trail, located 400 feet from the home. This trail will get you to Solitude in 0.3 miles (you can skin up in the winter and ski down)! With 3 bedrooms plus an inflatable Queen mattress, and 2.5 bathrooms, it's the perfect spot for a group of 6 looking for quick access to the resorts in Big Cottonwood Canyon. Snow Shelter features unique amenities such as a full-sized pool table, high ceilings, amazing private views of the surrounding forest, a private hot tub, and all the comforts of your own home. There's nothing better than being able to beat the crowds to the lifts and return to a luxurious home base!

Snow Shelter has room for 2 cars in the double garage.

Entry Level:
Garage - Spacious garage with plenty of extra room to store your gear!

Laundry - Full-sized washer and dryer with detergent supplied.

First Floor:
Bedroom 1 - Two twin beds fit comfortably in this room.

Bedroom 2 - Queen bed with a gas fireplace and TV.

Bedroom 3 - King bed with a gas fireplace and TV. 

Air Bed - The inflatable Queen mattress is located in the East bedroom closet and can be situated anywhere our guests feel is best. There's plenty of room to spread out in the loft, living room or even one of the other bedrooms!

Jack & Jill Bathroom - Updated bathroom with heated floors in between Bedrooms 2 and 3.

Open Dining/Living Room - Dine at the table with seats for 6, or relax on the couch!

Kitchen - Stocked with cooking tools and dining ware for all meals!

Common Bathroom - located off the kitchen with a freestanding tub.

Balcony Access - Balcony outside Bedrooms 2 and 3 (hot tub access).

Patio Access (Summer) - Use the back door to get out to the custom patio!

Second Floor (Loft with Balcony Access):
Loft - Large gathering area with plenty of seating, a full-sized pool table, and a custom-built bar. Enjoy games with friends and family, or have a drink in front of the wood-burning fireplace!

Half Bathroom - Convenient half bath in the loft area.

Balcony Access - Seating on the balcony off the loft with beautiful views of the area - take it all in from above!

Security Camera Disclosure - we have 2 security cameras on site to protect our home and to monitor snow removal. They are located by the garage facing the road and by the west door facing the yard.